Hey guys, it's Kevin! Today I have a recipe for the best way to cook steak that most people haven't even heard of: reverse-searing.

Reverse-searing steak will guarantee that it comes out perfectly cooked every time. The science behind reverse-searing steak is very similar to that of using a sous-vide to make steak; you cook the steak until it has reached the desired doneness (medium-rare, medium, etc…) and then quickly sear it on a blazing hot pan to get a beautiful crust. Unlike sous-vide, you don't need to buy any fancy equipment to make it–you most likely already have everything you need. I first discovered this method of cooking about a year ago, and since then, there's never been a reason to cook steak any other way!

For reverse-searing, a thick cut of steak that is uniformly thick works the best. My favorite cuts are ribeye and New York strip, but any high quality steak will work.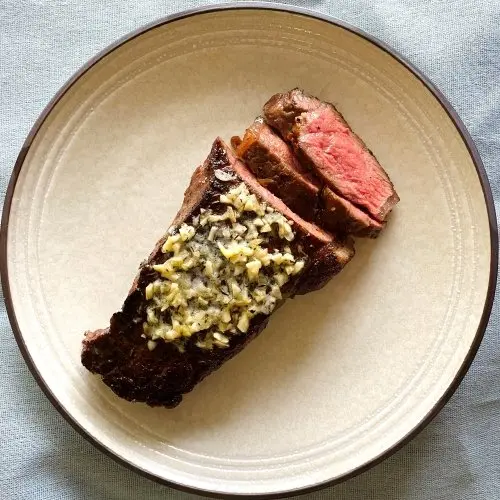 What Is Reverse-searing?
While the name may sound fancy, reverse-searing is actually very simple, and anyone can do it with some very common kitchen equipment (just make sure you have an instant-read thermometer). The first step is the same as if you were to make steak on a pan normally: pat the steak dry and season it liberally with salt and pepper on both side.

Next, instead of throwing the steak on the pan at this point, we bake it in the oven at 250°F. We use a low temperature so that the entire steak will cook evenly (we don't want the outside cooking faster than the inside). We bake the steak until the temperature of the meat at the thickest part is a bit below the desired final temperature (for medium-rare, this is about 95°F out of the oven and 130°F final internal temperature. See table below). To check the temperature of the meat while baking, you can use an instant-read thermometer. If you roast a lot of meat though, it might be worth investing in a Meater, which is a Bluetooth thermometer that goes into the oven with your meat.
| | | |
| --- | --- | --- |
| Doneness | Out-of-oven Temperature | Final Temperature after searing and resting |
| Rare | 85°F – 90°F | 120°F – 130°F |
| Medium-rare | 95°F – 100°F | 130°F – 135°F |
| Medium | 105°F – 110°F | 140°F – 150°F |
| Medium-well | 115°F – 120°F | 150°F – 160°F |
| Well | 125°F – 130°F | 160°F – 170°F |
Temperature guidelines for cooking steak to desired doneness

After the steak has reached the desired temperature in the oven, we take it out and quickly sear both sides on a blazing hot skillet to develop a beautiful finish. While doing this, we also add some butter and garlic to the pan and baste the steak with it. This will help the steak brown even better and enhance the flavor even more.

We finish the steak off with a big scoop of softened butter mixed with minced garlic and herbs (thyme, rosemary, basil, parsley, etc…). There you have it–a beautiful steak, perfectly cooked to your liking and dripping with flavor. Eat it by itself, or with a side of home fries and caramelized onions like we have above.

Let's get started!
If you like our recipes, subscribe to our newsletter and follow us on Facebook, Instagram, Pinterest, Yummly, and Twitter to stay in touch for the latest updates!
Feeling Fancy?
Try mixing up which herbs you use in the butter mixture! Also, try pairing the steak with different sides. In our picture above, we prepared the steak with caramelized onions, home fries, and roasted cherry tomatoes for a full meal.
Pin this image and follow us on Pinterest!
Like this recipe? Don't forget to rate and share it with your friends!